A Message from Gerrit Van der Merwe
Wednesday 20th December 2017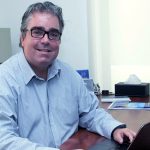 Dear friends and colleagues
As we approach the end of 2017, it is with a sense of achievement that we can look back on a year which has been both challenging and positive in equal measure.
OMA employs 238 people throughout Senegal, Ivory Coast, Ghana, Togo, Benin, UK & Australia, and this year to date OMA staff have handled over 8000 agency appointments and moved some exceptional projects inland and across borders. A special mention for OMA Ghana's partnership with Yinson which saw the FPSO start operations in Takoradi an amazing three months ahead of schedule and between February and December OMA co-ordinated the movement of some 88 tons of airfreight, 12 tons of LCL and 106 tons of full containers.
Our newest affliate, OMA Senegal goes from strength to strength with the appointment of Vincent Bahiya-Kodock as country manager. With clearing licence secured and TRACE certification in place, they have begun the ISO certification process and plan to achieve this in 2018.
Simon Milton (ex Ipswich Town FC) also joined us this year to drive forward the Futurestars project that he and director Gary Miller started two years ago. The charity application is in, and we expect this incredibly worthwhile project to achieve great things in the coming years. Currently operating in Ghana and Togo, at the time of writing the project is working with some 2500 children every week, watch this space for www.futurestarscharity.org.uk early next year!
Since the management buyout in 2015/6, this year also saw us roll out the new OMA brand across all our businesses. 2018 will see OMA explore new opportunities both geographically and through expanding the activities in the sectors we currently operate in. It's an exciting time to be part of the OMA Group.
The shipping, logistics and oil & gas sectors have generally experienced a number of difficult years, and we are delighted that as a Group our performance has shown growth year on year in sometimes challenging conditions – this could only have been accomplished thanks to the dedication and commitment of all OMA colleagues along the West African coast.
On behalf of OMA Group, may I take this opportunity to wish you and your families a truly joyous and restful Festive Season and I would like to personally thank all our clients, staff and partners for a busy and productive year, and may 2018 bring you good health and prosperity.
Gerrit Van Der Merwe
Group Managing Director