From Gold Coast to Gold Coast!
Friday 15th June 2018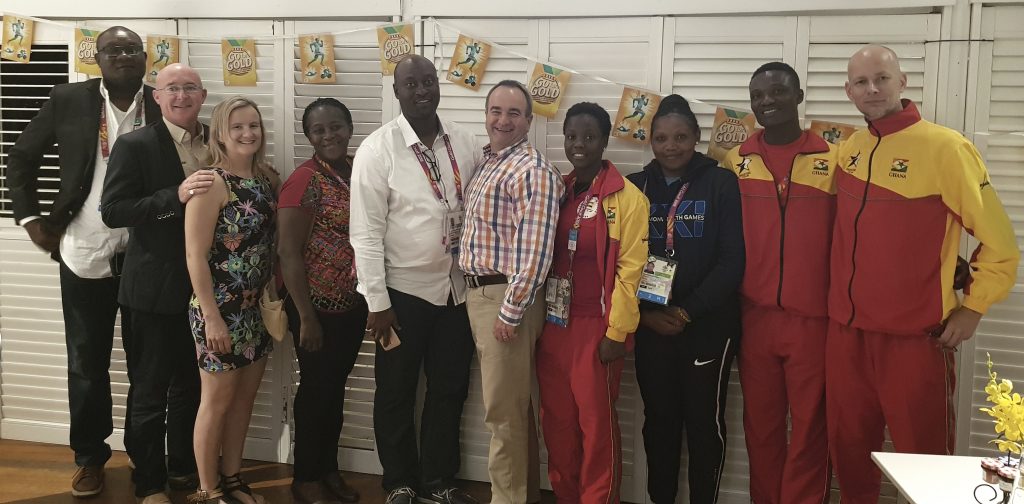 At the recent 2018 Commonwealth Games, held on the Gold Coast of Queensland, Australia, OMA was honoured to have the opportunity to entertain Ghanaian Commonwealth Games team officials and members of the shooting team.
It wasn't the first time OMA had joined the Ghanaian team at the Commonwealth Games. Back in 2014, Ian and Neale had the pleasure of entertaining Ghanaian team members and officials for lunch in Glasgow.
This time it was the turn of the Gold Coast, near Brisbane, to host the Games. Over a typical Australian dinner of fresh salads, top quality meat and locally growntropical fruit (and the odd locally produced beverage!), a lively discussion took place. Much was learned about the dedication, passion and enthusiasm all members of the Ghanaian team have for their sport and above all, for participating in such events, proudly representing Ghana.
The opportunity was also taken to highlight some of the more interesting facts about life Downunder (Australia), not least of all, the different flora and fauna to be found uniquely on the other side of the Wallace Line, and the huge competitive spirit which exists in cricket & rugby between Australia and the UK.
It was a particular pleasure to see again some of the team members who were at the Glasgow games. All too soon sadly, a most enjoyable evening had to come to a close, due to the pressure of the early morning call for competition next day.
OMA would like to thank the Chef de Mission, the Team Coach, the Team Doctor the Team Physio and all team members for their time. Special thanks go to Cillian the shooting team coach for making the event possible. All are pictured together with Neale and his daughter Fern.
We look forward to seeing the Ghanaian team in action again in 2022 at the next Commonwealth Games which will be held in Birmingham, UK.