Futurestars CSR Partners Day
Wednesday 12th December 2018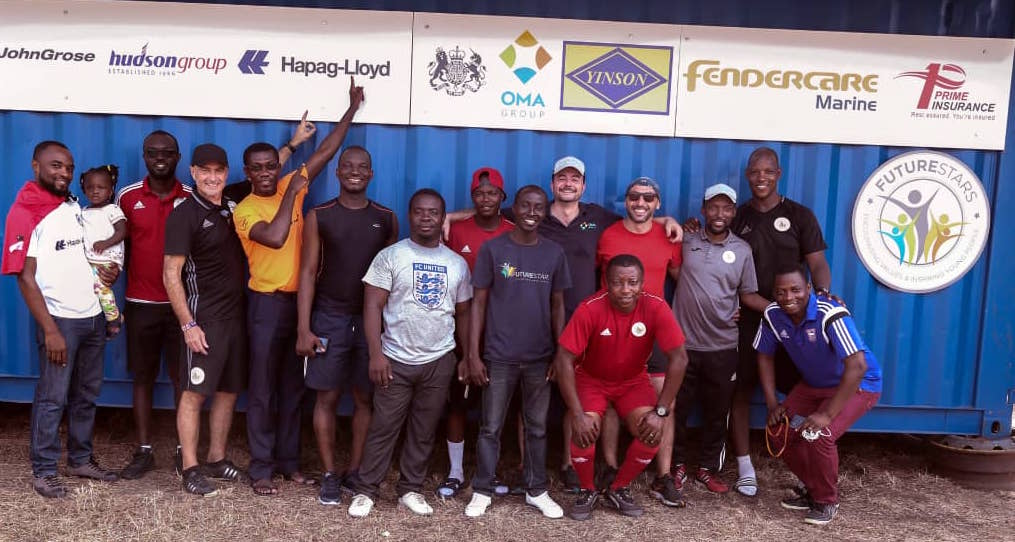 Saturday 8th December was Partners Day
OMA Ghana and OMA Togo staff made a huge difference on Saturday 8th December.  As part of CSR project Futurestars, a kit amnesty in the UK culminated in a full 40ft container (kindly donated by partners Fendercare), containing hundreds of boots, kit and equipment.
So many companies in the UK were involved in donating kit, time and services to allow the container to be stored, filled and shipped.
Once it was delivered on site to Tema Stadium a fantastically attended Partners Day allowed all the kit and equipment to be sorted and distributed.  Teams from OMA Ghana in Tema and Accra, and OMA Togo in Lomé worked tirelessly alongside other Futurestars partners Yinson, Fendercare and Hapag-Lloyd and Prime Insurance 
We were also delighted to welcome teachers from the Futurestars schools in Tema, staff from the Ghana Education Service` boys & girls from the Futurestars development academy, a team from the British High Commission and fantastic local charity Accra-based Akwaaba Volunteers 
The container now has a roof and fitted with shelving and will be a much needed store room for Futurestars coaches at its permanent home at the Tema stadium.  A big thank you to everyone who attended and to Simon Milton, Futurestars director, Titus Bramble, Futurestars Ambassador & Lead Coach and particularly to Emmanuel Okyne-Tetteh, Futurestars project manager for making it happen.  Special thanks also to Francesco Leuzzi, (Country Manager) and Kwaku Nuamah (Logistics Operations Manager) from OMA Ghana and Rupert Rossi (Country Manager) and Raman Ibrahim (Finance & Administration Manager & Futurestars Project manager in Togo) from OMA Togo – what an amazing job .  Next stop Togo!