Ghana Corporate Brands Awards
Monday 11th September 2023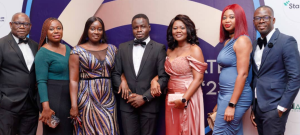 Digital Horizons: "Celebrating Ghana's Corporate Brands, Charting A Path To Technological Excellence".
The Ghana Corporate Brands Awards themed, 'Digital horizons: celebrating Ghana's corporate brands charting a path to technology excellence', highlighted the relevance of excellence in branding at the award ceremony which took place on 1st September 2023 at the Movenpick Ambassador Hotel, Accra, bringing together industry leaders and professionals to celebrate outstanding achievements in the corporate Industry. It was a glamorous event filled with excitement and anticipation.
OMA Ghana was nominated and awarded in two significant categories:
The "Ship Agency Brand of the Year" award, which recognizes and celebrates an exceptional ship agency company that has demonstrated excellence, innovative, and outstanding service within the maritime industry. This prestigious award was presented to the ship agency brand that has consistently delivered exceptional support to vessels, cargo, and clients while maintaining the highest standards of professionalism and efficiency.
The "Equality, Diversity & Inclusion Award" which honours OMA Ghana as an outstanding contributor to fostering an inclusive and diverse workplace culture. This award recognizes OMA Ghana as an organisation that implemented strategies, policies, and initiatives to promote equality, diversity, and inclusion across all aspects of our operations, including workforce, leadership, and corporate culture.
We owe our success to the dedication, hard work, and creativity of every member of the OMA Ghana team. We extend our deepest gratitude to our employees, who continue to push boundaries and exceed expectations.
Furthermore, we also want to thank our clients and partners for their trust and collaboration. It is your feedback and support that drive us to continually improve and excel.
The Ghana Corporate Brands Awards was a momentous occasion for OMA Ghana, marked by our triumph in two significant award categories. These awards reaffirm our commitment to excellence and innovation, and it inspires us to reach even greater heights in the future.