OMA Côte d'Ivoire at World Cashew Convention
Wednesday 12th February 2020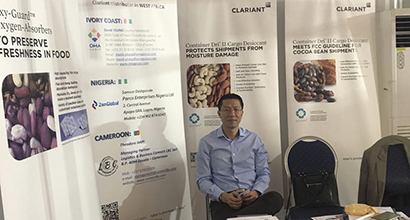 OMA Côte d'Ivoire is delighted to be part of the Clariant stand number 22 at the World Cashew Convention 12th – 14th February at the Radisson Hotel in Abidjan.
OMA is the sole distributor in Côte d'Ivoire for Clariant Container Dri® II dessicants which protect cargo from the damaging effects of moisture during shipping and transport.
Clariant's Container Dri® portfolio offers a broad line of container desiccants that offer versatile protection against damaging humidity and moisture during intermodal transport. Available in bags, poles and strips, these industry-leading products absorb up to three times their weight in moisture and trap it as a thick gel that will not spill or drip.
The World Cashew Convention is jointly organised by cashewinfo.com and Association of Cashew Exporters, Cote d'Ivoire (AEC-CI). Cotton and Cashew nut Board of Cote d'Ivoire (CCA) is the host country partner of the conference.
Côte d'Ivoire is well poised to produce one million tons of raw cashew nuts soon. It has also scaled up its raw cashew processing capacity to over 200,000 tons per annum and at present, processes about 60,000 tons.  West Africa in total produces close to 1.6 million tons of raw cashew every year.
Given this, it is an ideal opportunity to bring the global cashew industry to Abidjan, Cote d'Ivoire just before the commencement of the season (which starts in February).