OMA passes ISO audit with flying colours
Friday 15th December 2017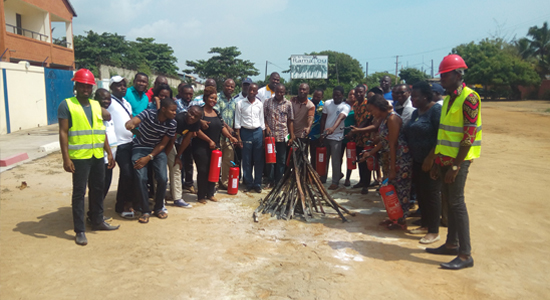 Last month OMA Ghana, Togo and Benin all successfully passed their annual audits for ISO 9001:2015 and ISO 14001:2015.

OMA Ghana also passed their audit for OHSAS 18001.
The environment in which OMA operates along the West African coast presents certain challenges and in order to maintain the highest possible level of service expected by our international clients, we are committed to implementing quality management system and environmental management system, audited and certified by DNV GL.
We believe that OMA sets the benchmark for quality management and in fact OMA Benin was the first ship agency in Cotonou to achieve ISO certification back in 2011. We are whole-heartedly committed to the process and are enormously proud of the efforts our staff put in every day to achieve and keep the ISO certifications.
We have implemented a Quality Management System ISO 9001:2015 in Togo, Ghana and Benin to:
Ensure our services are provided in the most effective way.
Show tangible proof that we deliver reliable and high quality, traceable services.
Demonstrate our commitment to meet statutory and regulatory requirements.
Maximise customer satisfaction and employee engagement.
Keep records of everything we do to serve as future reference.
Regular external audits maintain the focus and keep the performance level high.
The management system has allowed us to improve reporting and communications, maintain reliable scheduling and delivery, enhance the quality of our service and minimize errors.
OMA Ghana, Togo and Benin are also ISO 14001:2015 (Environmental Management System) certified to
Demonstrate that we care about the environment around us
Assure that we are committed to identify and control environmental impacts through a demonstrable environmental management system.
Have a framework for identifying and complying with the various legal, regulatory, and contractual requirements, that apply to our processes.
Our newer affiliates, OMA Côte d'Ivoire and OMA Senegal have begun the process of ISO certification.